The Beloved Hotel Playa Mujeres
The luxury oasis of Cancun
Infinite Excellence, Exclusively for Two
Nestled on an immaculate white sand beach overlooking the Caribbean Sea, Beloved Playa Mujeres is an unparalleled couples only paradise in Playa Mujeres, Mexico. Just minutes away from Cancun, this all-inclusive 5-star luxury boutique hotel features an exquisite choice of lavish suites, an extensive spa and fitness facility, a variety of fine dining, seaside golf, boating and fishing, and a host of other activities on sea and land. Whatever your pleasure, at Beloved Playa Mujeres Mexico, impeccable service and natural Caribbean beaches set the stage for an unforgettable five-star, boutique, all-inclusive experience.
At Beloved Playa Mujeres, dining is an integral part of our luxury all-inclusive, boutique experience. Four different restaurants offer the best in fine dining – From gourmet dishes inspired by international influences to the fresh and spicy flavors of our local Mexican cuisine.
Enjoy refreshing fresh fruit juices and tropical cocktails with the best views of the Caribbean at our bars and lounges, or indulge in the pleasures of gourmet cuisine in the privacy of your own suite with our 24 hr room service. At Beloved Playa Mujeres, fine dining and comfortable social settings are right around the corner.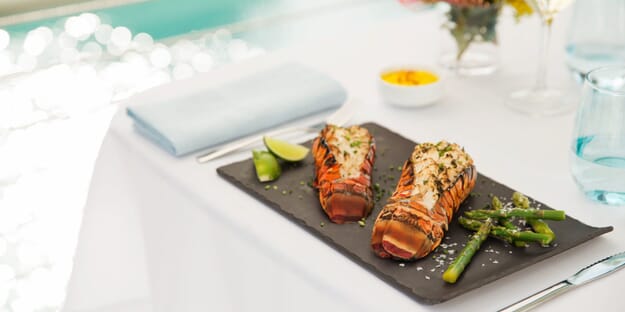 4 International Restaurants
Two Story Casita Suite with Plunge Pool
From the moment you arrive at Playa Mujeres, you will experience the Excellence Club difference. You'll be treated to express check-in and check-out service in a private VIP lounge area. The lounge is solely for the use of Club guests and has free Internet access, snack buffets and bar service. Consider it your own private club to use any time.
Expect ultra-pampering, ultra-privilege. Our staff is on hand 24 hours a day to make sure your stay as comfortable as possible and that every aspect is attended to even the smallest details. The fresh flowers in your room will surprise you, the daily fresh fruit, premium mini bar and Bvlgari toiletries will delight you. And Club benefits extend beyond your suite. Guests enjoy a private beach area and, depending on the property, a private pool area, along with a Club-members only bar.